When it comes to appliances of home, we always consider buying a fridge or freezer first. As it helps you keep your food fresh and tasty for second-time use.
Its demand increased when COVID-19 attacked the whole world. Everyone was looking for some freezers to gather their food for many days. But they faced a lot of problems.
Also as for Muslims, EID-UL-Azha is on the way to enchant our souls. So you might need to buy new freezers for keeping your meet fresh and tasty for longer usage.
This is why today, we are helping you out in choosing the best 5 freezers that are quite handy to buy. These freezers are randomly listed without ranking. However, they all have some distinctions according to their prices or features.
let's start with it;
Dawlance VF-1035WB Vertical
Starting with the renowned company for manufacturing cooling appliances, Dawlance. There is no doubt that Dawlance deep freezers are surprisingly worth it with their cooling power.
This deep freezer also becomes your food-saving hero with its freezing capacity. It would perform the same as in winter and summer. There is no hazard of gas leakage and the insulation is thick enough to make your eatables healthy and fresh.
The second amazing thing about buying this deep freezer is that it comes in a vertical position. This would save a lot of space in your home and easy to move from one place to another.
There is a shining and eye-catching color that appeals and adds beauty to your kitchen. You would be getting two solid draws in the bottom for an arrangement of food perfectly. Also, you would be getting more backup cooling time when it's load shedding tenure.
Changhong Ruba CHR-VF 220 Vertical
Changhong Ruba is a Chinese company successfully wining the market of electrical appliances. This company is offering amazingly low prices and the best returns.
Here we are mentioning another vertical deep freezer from Changhong Ruba. The thing which makes it different from Dawlance is energy efficiency. It consumes the lowest energy to keep your items fresh.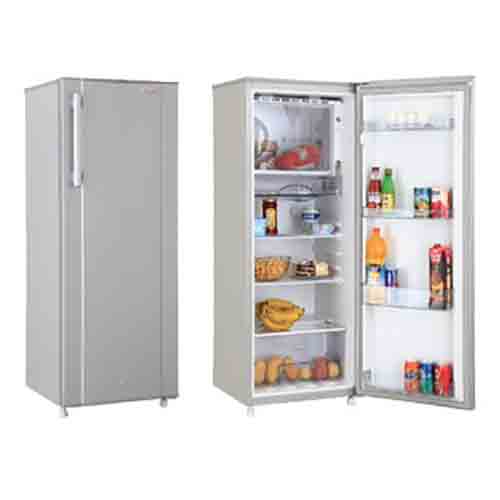 There are different shelves that are adjustable according to your eatable sizes. Furthermore, there are no moveable parts that reduce the breaking hazards. For your prolonged usage, you can consider buying this freezer.
The only negative point which I noticed is lesser space as compared to Dawlance. Due to the vertical position and a bulky door, there is minimal space to use for storing eatables.
When it comes to chest deep freezers, considering Haier should be your priority. Their deep freezers are highly in demand in the market and serve greatly.
This deep freezer offers you a cooling maintaining capacity of 4 to 5 hours. There are different storage options but a manageable would be 346 liters.
There are baskets offered inside to keep in food and managed to approach. Your food and eatables are aligned perfectly. So grab this best in the budget deep freezer this EID.
Kenwood KDF-222V Deep Freezer
Here we came toward the world's most trusted brand for cooling appliances, Kenwood. Kenwood is a foreign brand offering great products within a handsome package.
Though you would be paying a little extra it will prove itself to be worthy. There are different options available like temperature exceeding lights, high backup cooling mode to prevent compressor working all the time.
The only thing which may seem to be not good for you is the older design. This freezer comes in a vertical shape and is an older model but still the best to buy.
There is a reversible door and a space-saving model to get in your kitchen. So buy it today to enjoy the true freezer experience.
Waves 2110/310 chest freezer
Last but not least is waves. Though there is not a big name in front of you it could be useful if you are going on a lower budget and want something perfect.
This is also a Chinese company but a huge competitor of Changhong Ruba. There is a smaller size chest freezer for your basic home needs. With a capacity of 250 liters, it consumes the most minimum energy.
The only drawback it serves is the extra deepness of this freezer. If you are a senior citizen or having back pain issues, don't consider buying this freezer. Rather, I would suggest you buy a vertical freezer that would be a pleasant entry to your home.